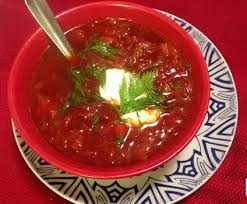 Spring is Liver time, and a good time to give your liver a little extra attention after a long winter.  Beets are a good food to assist your liver and continue to nourish your kidneys as winter ends and spring begins. This dense root vegetable is an excellent cross-over vegetable as the seasons change.
Beets are a source of boron which is important for sex hormones.  They have been historically used as an aphrodisiac!
They contains many vitamins and minerals – potassium, magnesium, fiber, phosphorus, iron, Vitamins A, B, C, beta-carotene, beta-cyanine, folic acid.  Beets are also good for iron replenishment in women.
Beets can be good for mental health due to the betaine and tryptophan, similar to chocolate. They can also help lower your blood pressure.
If you eat a lot of beets or beet juice and your urine is pink you have low stomach acid.
Beets are low in calories & high in sugar – but this sugar is released slowly into your system –unlike chocolate.
They have a unique combination of phytonutrients and antioxidants which can be especially helpful in reducing chronic inflammation.
Beet Borscht:  A Delicious Way to Get Your Beets
You can make borscht any way you want. You can warm it up or serve it chilled.
Here is a veggie-packed recipe to start with. Add or delete items as you choose. Make it your own.
What you'll need….
1 1/2 cups cubed potatoes

2 cups cubed beets
6 cups chicken or vegetable broth
2 tablespoons butter
1 1/2 cups chopped onions
4 garlic cloves minced
1 cup chopped beet greens
2 teaspoons salt (or to taste)
1 celery stalk, chopped
1 large carrot, sliced
3 cups coarsely chopped purple cabbage – it can be green but will probably look red when done cooking
2 bay leaves
a couple handfuls of shitake mushrooms
1 tablespoon balsamic vinegar
1 tablespoon honey
1 cup tomato puree
sour cream (optional)
green onions for garnish
Let's Make Some Borscht!
 Heat the butter in a large pot. Sauté the onions until they are translucent.
Add the garlic, salt, bay leaves. Sauté for 1 minute.
Add the celery, carrots, cabbage, beets, potatoes, mushrooms and stock. Simmer until all the vegetables are tender, about 30 minutes.
Stir in the balsamic vinegar, beet greens, honey and tomato puree. Cover and simmer for 5 more minutes.
 Serve with a dollop of sour cream (optional) and green onions for garnish.
Borscht, any way you make it, is a delicious way to help your liver in the spring.  Enjoy a bowlful tonight.
Beet Borscht for a Spring Liver Cleanse