Deviled Eggs
Eggs have been unfairly demonized because they contain large amounts of cholesterol.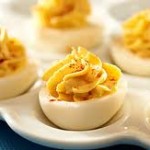 However, dietary cholesterol doesn't necessarily raise blood cholesterol and eggs have never been proven to cause harm.  If anything, eggs are among the most nutritious and healthiest foods you can eat.  They're loaded with vitamins, minerals, and antioxidants.  Studies show no association between egg consumption and risk of heart disease
So, there is no need to fear the egg.
Deviled eggs are a surefire hit at any potluck, picnic or barbecue.  How many times have you made your favorite tabouli recipe for a potluck, only to take home ¾ of it?  Deviled eggs are easy to prepare and you'll never bring home leftovers.
 Directions for Hard Boiled Eggs
Place the eggs in a saucepan in a single layer and fill with water to cover the eggs by one inch. Cover the saucepan and bring the water to a boil; remove from the heat and let the eggs stand in the hot water for 15 minutes. Drain the hot water and cool the eggs under cold running water in the sink then peel the cooled eggs.
Ingredients for Deviled Eggs
6 eggs, boiled
1/4 cup mayonnaise
1 teaspoon vinegar
3/4 teaspoon yellow mustard
1/2 teaspoon salt
 Pepper, paprika
Let' Devil Those Eggs
Shell eggs and slice lengthwise.
Put cooked yolks in a bowl and mash with a fork.
Add mayo, vinegar & pepper to yolks and mix.
Re-stuff eggs, and sprinkle with paprika.
This is the most basic recipe.  Variations are endless.  For "Southern Style", add some sweet pickle relish.  For a more zesty deviled egg, stir in a little horse radish or chili sauce (I like Sriracha hot chili sauce).  Add a dash of Worcestershire sauce.  Garnish with smoked salmon, roasted sweet peppers, freshly minced parsley, dill, or any herb you like.  No matter how plain or fancy, your deviled eggs will be a big hit.