Gong hay fat choy  (Cantonese – Happiness and Prosperity)
Happy Chinese New Year (Cantonese – San nin hou)
January 22 is New Year for 2023. It is the year of the Yin Rabbit.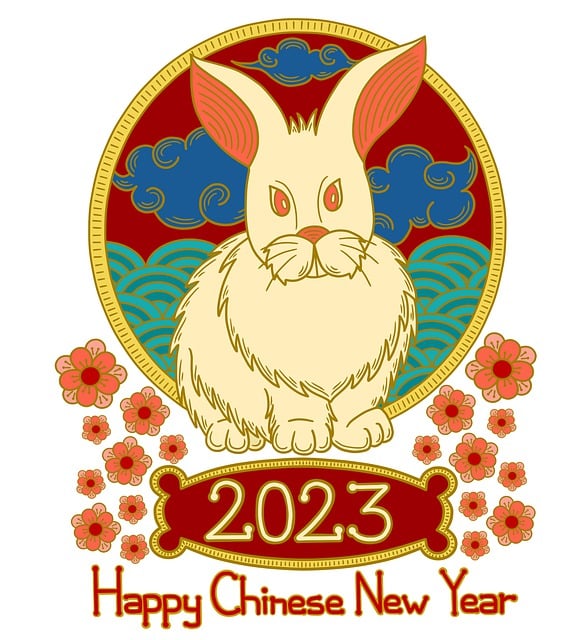 New Year in the lunar calendar is the 2nd full moon of the lunar calendar. That is why the date varies each year.
There are many New Year traditions for those who honor the lunar celebrations. These actually start on the 28th day of the last lunar month (Jan 19) by cleaning the house and preparing celebratory goods. Cleaning the first few days of the new year can sweep out the positive, new energy you want to have in your home and life during the next year so planning ahead is necessary.
Ancient history talks of a big monster coming at the time of the first new moon. Fireworks, candles, wearing red, giving gifts in red envelopes were ways to fight off the monster and start the year safe from this creature. Red is a good luck (auspicious) color and wards off negativity and evil spirits.
Family reunions are very important at this time also. In China they celebrate for 2 weeks, the first week is a national holiday. Families travels long distances to go home and gather together.
On New year's eve there are ceremonies to remember family members who have died and offer sacrifices (gifts) to their ancestors. It is common to have celebrations at the family gravesites and honoring ancestors first before the other festivities.
What can you anticipate for the new year?
I am going to resend you to a link from one of my mentors. He does a lot of research on Chinese astrology. I first sent this out at the beginning of January but you may have missed it. There is a lot of info here and it's a lot of fun. Brings another perspective to our lives as we migrate through life's tangles and challenges.
https://mailchi.mp/4b2e9b588c62/rabbit2023-holman888
To bring you more luck this try:
Wear more red.
Be kind to others and  yourself. Avoid negative thinking and actions.
Make new friends and make time for your  current friends and family.
When you start your day with a healthy meal you set yourself up for a more successful day.
Please stay tuned in to my blogs as I will be starting to post more often this year – but not too often. I get overwhelmed with emails and other stuff also. I hope to bring you more information on self-care and many topics to expand your thinking. Book references, recipes, connection with other care providers and specialists and specialty equipment that I feel may make your life easier. Some connections will be affiliations, from whom I will receive a commission, others with just be good, helpful or fun info.
It would be helpful if you would kindly "Follow" my Facebook page Acupuncture Oregon City (numbers matter for some affiliates) and sign up for my email list. I do not share this information with anyone and you can always unsubscribe at any time. All Good.
Thanks for checking in and have a wonderful, happy, healthy New Year.