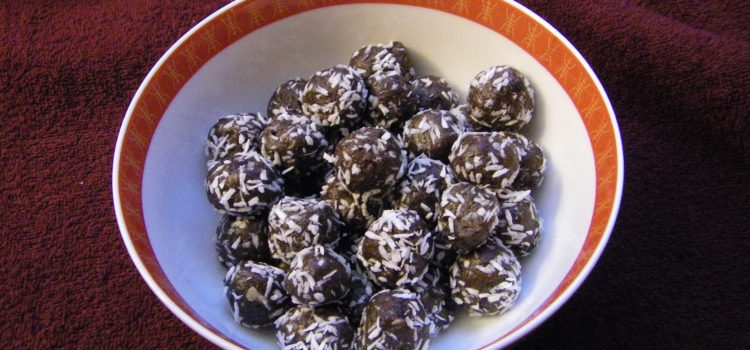 Herbal Tonics need not be bitter teas or handfuls of pills.  In fact, one of the best ways to nourish and tonify is by creating foods and treats one can enjoy.  The following recipe is adapted from Rosemary Gladstar's Family Herbal:  A Guide to Living Life with Energy, Health, and Vitality.
He shou wu, or fleece flower root, is one of the chief herbs in the Chinese material medica for nourishing Jing. The name of the herb literally means "Black-haired Mr. He, and is based on the legend of Mr. He restored the color of his hair, vitality, and youth by using the herb.
 

1 cup Tahini or Almond Butter

 

½ cup Honey

 

2 tbsps. powdered He Shou Wu   (Sometimes sold as Fo-Ti*).

 

1 tbsp. powdered dried nettles*.

 

Carob powder.
*Fo ti and nettle herb can be found at The Herb Shoppe in Portland, Oregon or on-line at Mountain Rose Herbs. 
Optional:
 

Shredded Coconut

 

Raisins, currants, or chocolate chips
Mix tahini or almond butter and honey.
Combine powdered herbs to make a thick dough.
Mix in whatever options such as coconut, chips or raisins you might like.
Add enough carob powder to thicken into dough.  Roll into small balls.  If you like, roll in coconut to coat.  Store in the fridge where they will keep for two to three months, but why wait that long?  Snack on a couple each day!  Jing balls make a wonderful holiday treat, too!